Pearl Jam O2 Arena 17-7-18
In all my time gig going which is now in it's 37th year I have never gone to see a band that I once hated.I have seen plenty of support's I wish I hadn't arrived early but this gig was a first.
Well eventually as it was postponed 4 weeks ago due to Eddie Vedder's lost voice.
Back in the day Pearl Jam along with Nirvana killed a genre and created their own and I couldn't stand them or what they stood for.
Many year's later and a best of found it's way in to my house and a couple of song's whetted my appetite.A watch of their Chicago stadium show from 2016 and I was being drawn in so now here I was about to see Pearl Jam for the first time.
On arrival and a smile to every one's faces as the Donald Trump blimp the blump was outside and later Eddie gave a lengthy speech about Donald and what he bring's to the world.Nothing as 20000 fan's gave their views.
Over the course of 3 hour's with a set that felt like it was never going to stop this is what they played.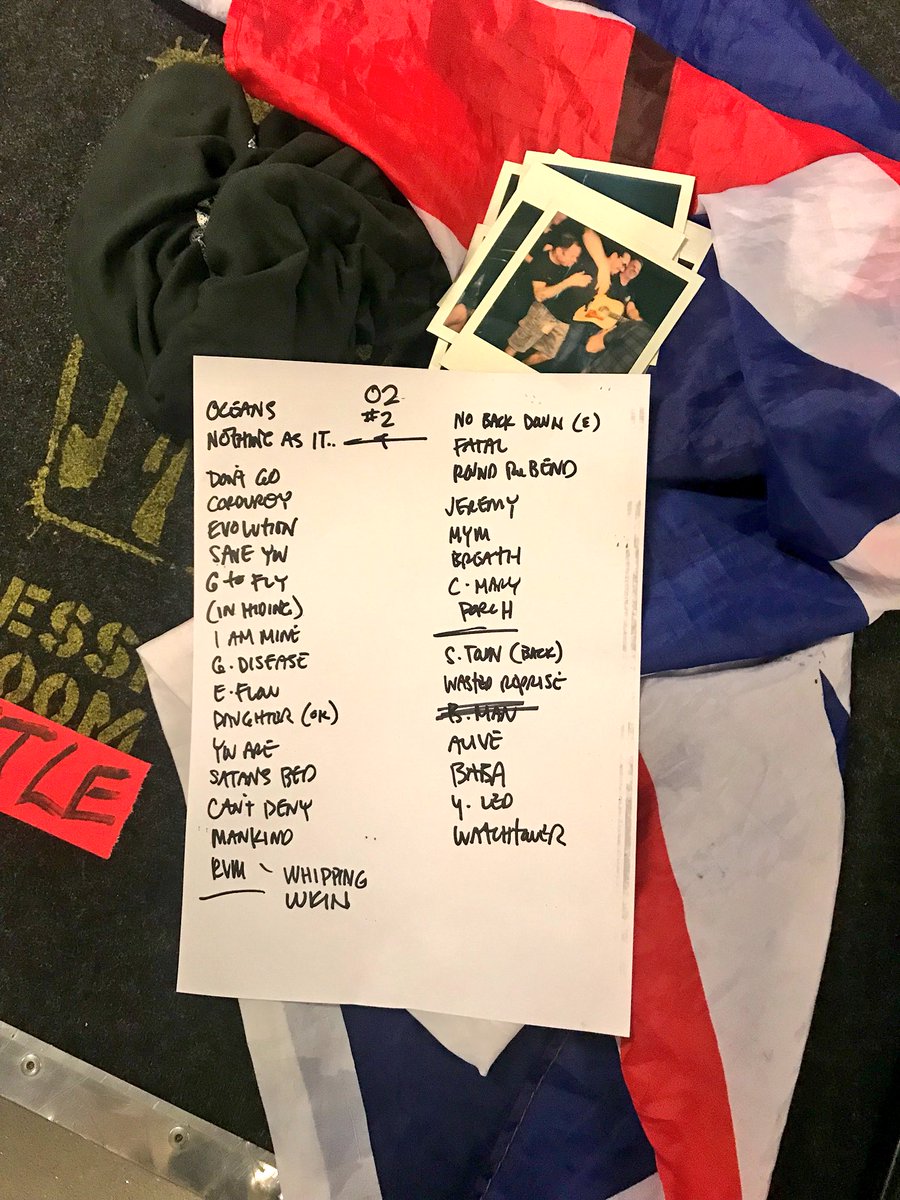 The opening Ocean's and Nothing As It Seems were a gentle introduction with the sound excellent before Go and Corduroy saw the mosh pit explode and the singing from 20000 voices very loud and a real sense of being at an event.
With a great sound and a light show that included 14 spheres that looked like my nans old lamp shades that was a 1 to Metallica's cubes!!
Eddie soon apologised for the recent no show and said he would make up for it which they more than did.
Eddie is a front man a singer an icon and has a voice that people hang on to every word.The reaction of the fan's was rabid and as a semi fan it was great to watch people totally losing it in the moment.
Evolution was spat out with Matt Fu**ing Cameron a driving force drummer that few can match.The man is a machine who is one of the very best playing on a small kit and sounding a million dollars.
Even Flow was incredible.The crowd went nut's the singing deafening and Mike McCready on guitar is officially a guitar god with an amazing tone and style his lengthy mid song solo a work of art with Matt's powerhouse drumming along side Jeff Ament a blur on bass a night high light.Stone Gossard on second guitar happy to sit in the shadows.
After an hour 40 with Rearview Mirror a stunning musical end to the first part with barely a dip in quality.We were then off into the encore's which in total was an hour 20 minutes which included a 3 song sit down acoustic segment and the curfew being ignored too.
Jeremy saw a total melt down of the fan's around me before the band played Elderly Woman to the fans at the back of the arena before returning to our side!!
Alive was stunning with the house lights on half way through as the band powered on with the singing reaching a peak before another Mike solo that soared to the O2's roof.
The Who's Baba O'Riley was superb as a few fan's left thinking that was it but no back for more with a cover of Dylan's All Along The Watchtower.Phew.
A mere 33 songs 6 more than the first night in June and 3 hours in total.
I left a fan and would go again.
A superb live act with few peer's.