Halestorm Bristol Academy 29-09-18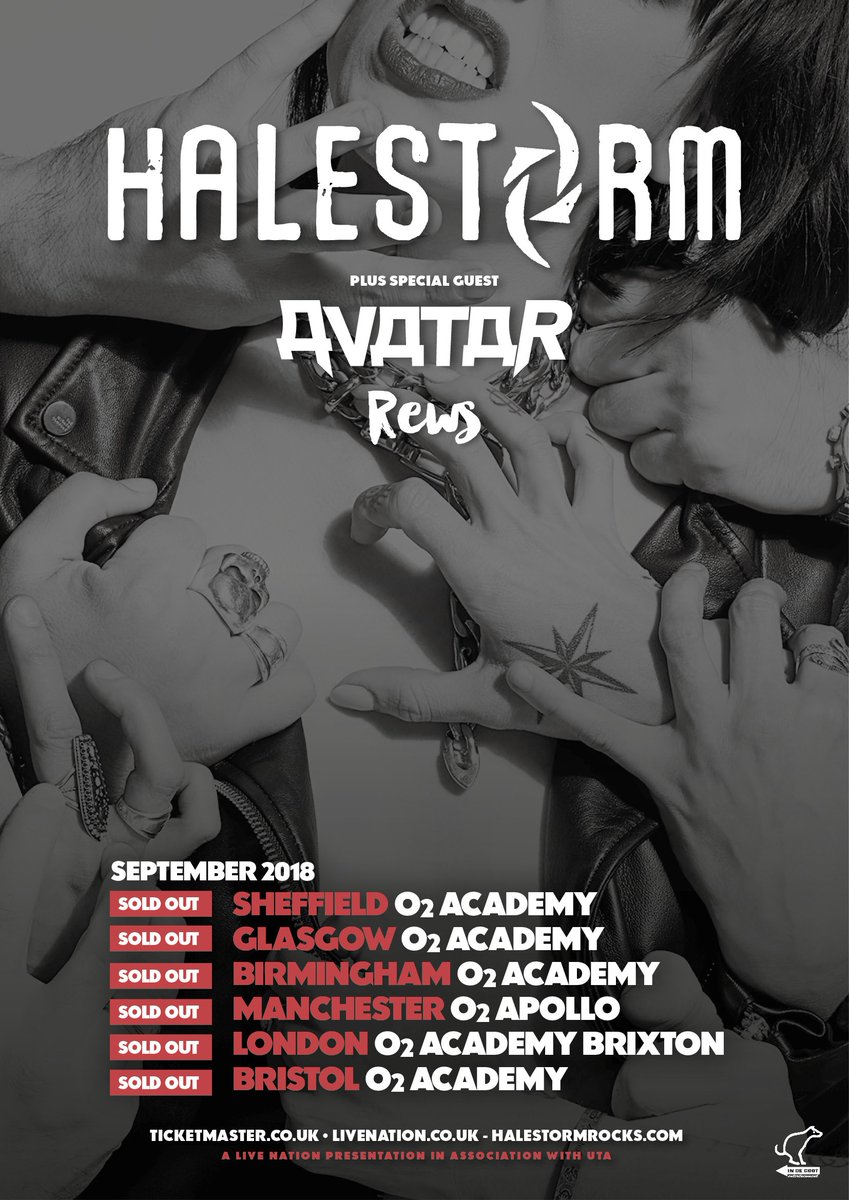 A pet hate of mine at gigs is standing outside for what seems like forever past the official door opening times and then from through the walls you hear the first act starting and your still outside.Aaarrgghh.
Finally and 2 songs in we see a huge light back drop saying Avatar and if you didn't know you would have thought they were the first act.In fact it was Rews a 2 piece female band from London and Belfast with Shauna Tohill on guitar and lead vocals and Colette WilliamS on drums and back up vocals.
Great vocal melodies and riffs but maybe lacking that front person focal point but one to keep an eye on for sure.
Sadly Rews didn't put up their back drop for Avatar to come onto!! We were treated (cough) to 4 roadies in maroon waist coats seting the stage up with the on stage music more akin to a village fete before the lights dropped and comically the Avatar sign light up one letter at a time.
Dressed in matching black outfits with gold lapels and cuffs and the singer who so wants to be Marilyn Manson with Gene Simmons parentage for 45 minutes this was comedy Swedish metal with synchronised hair twirling.The vocals on the quieter bits had a Geoff Tate feel but then the growling started.
The crowd lapped it up me I thought it was terrible.
With sold out notices country wide months before the tour this is one hot ticket and as a long term fan great to see the band moving into bigger venues.
As the lights dropped the crowd went nuts as Lzzy Hale walked on stage and didn't stop with the following set list.
Uncomfortable
Mz Hyde
I Am The Fire
Do Not Disturb
Love Bites (So Do I )
Skulls
Amen
The Silence
Vicious
Freak Like Me
It's Not You
Killing Ourselves To Live
Encores of Black Vultures
I Miss The Misery
Here's To Us
I saw the band on their first tour and now 4 albums in was disappointed at a head line set that was 62 minutes long with 15 minutes added as an encore.Not long enough in my book.
The band looked comfortable on the bigger stage as they now headline arenas back in the US and with an excellent sound with everyone audible.
Lzzy centre stage is the focus of all eyes and as the years have progressed and their never ending road journey has given her vocal melodies a rougher more gravelly hue.
Uncomfortable off new cd Vicious was a great set opener with it's big riff and chorus but next song in Mz Hyde had the joint jumping and screaming along with Lzzy.
Lzzy's brother Arejay on drums in bright pink suit with shorts plays in a similar vein to John Fred Young of Black Stone Cherry being all action and is a watch all on his own.
Josh Smith on bass is solid with great backing vocals and Joe Hottinger on guitar is comfortable riffing and on the lengthy extended musical part of I Miss The Misery is finally given the chance to let rip which he does with dexterity and no little quality.
Hit follows hit but for the me the show highlight was an acoustic take on new album track The Silence with Joe and Lzzy sat on the stage edge and Lzzy's vocal melodies and range were stunning with the heartfelt lyrics making the hairs on my neck satnd to attention.
Freak Like Me was like a bomb going of as the crowd went double nuts and soon it was done as mentioned before.
Black Vultures again off Vicious was superb before Here's To Us was a fantastic set closer with crowd participation and hands waving and a great end to the night.
Halestorm continue to ascend to the very top with all the women wanting to be Lzzy and all the men well I will let you make that bit up!!
Just need to play for longer!!