Helloween Brixton Academy 14-11-17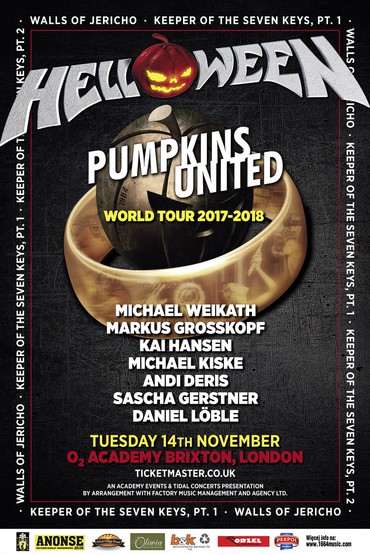 Reunions come in all different shapes and sizes but this is the Helloween current line up being rejoined with 2 members of Unisonic!!
Or to millions of fans world wide Micheal Kiske and Kai Hansen are back playing with Helloween!!
Under the umbrella of Pumpkins United this is the UK sole date that will circumnavigate the globe more than once.
So 7 band members with Andi Deris on vocals,Markus Grosskopf on bass,Sascha Gerstner on guitar,Michael Weikath on guitar and Daniel Loble on drums making up the current line up.
For 2 hours and 50 minutes this was classic Helloween covering all bases and with the smiles on stage as big as the ones in the audience this was a night to remember.
I hadn't seen the band since 1988 falling out of love with them around the Pink Bubbles Go Ape era after such high's with the Keeper Of The Seven Keys Parts 1 and 2.
Here is what they played.
Halloween (Vocals Michael Kiske,Andi Deris and Kai Hansen)
Dr Stein ( Kiske,Deris)
I'm Alive (Kiske)
If I Could Fly (Deris)
Are You Metal? (Deris)
Kids Of The Century (Kiske)
Waiting For The Thunder (Deris,Kiske)
Perfect Gentleman (Deris)
Starlight/Ride The Sky/Judas medley (Hansen)
Heavy Metal Is The Law (Hansen)
Forever And One (Kiske,Deris)
I Can (Deris)
Drum Solo Dani Loble And Ingo Battle
Livin' Ain't No Crime (Kiske)
A Little Time (Kiske)
Why? (Kiske,Deris)
Sole Survivor (Deris)
Power (Deris)
How Many Tears (Deris,Hansen)
Encore 1
Eagle Fly Free (Kiske)
Keeper Of The Seven Keys Part One (Kiske,Deris)
Encore 2
Future World (Kiske)
I Want Out (Kiske,Deris)
With a wonderful light show and great sound and with a huge screen behind them showing the antics of Seth and Doc ( see pictures below) who introduced most songs and plenty of artwork and close ups this was an arena show in every way.
The crowd went nuts from the word go and if I'm honest no dip from the crowd or band at any time.Starting with the epic Halloween was stunning with the band on fire and the number ebbed and flowed with Kiske hitting all of those notes he last did nearly 30 years ago.Never seen Andi Deris live before and is a real show man with a huge vocal range and a great chemistry with Kiske.
I was there to hear the Keeper material and it didn't disappoint but was also pleasantly surprised at the reception to the Deris era tracks with Sole Survivor and Perfect Gentleman hitting the heights.
Guitar solo's were here there and everywhere.Messrs Weikath,Hansen and Gerstner all shone and we had single,twin and treble soloing with smiles on every face.
A big shout out to Loble on drums who was fantastic with a near 3 hour show his stamina and power was top notch.I'm not a huge fan of drum solo's but the band had come up with a novel idea with original drummer Ingo Schwichtenburg who sadly passed many years ago being shown on the screen and doing battle with Loble.It could have been cheesy but came over as a tribute very well.
Hansen took over vocals of some early songs played as a medley with the mosh pits erupting into a frenzy.
Encore time saw 4 Keeper classics played with the title track bringing the hairs on the back of my neck to attention as Kiske's voice soared to the sky.Wow worth the 29 year wait.
As I Want Out brought a fantastic evening to a close with pumpkin balloons and confetti raining down on us only one thought came to mind.The band have recently recorded and put out the new track Pumpkins United which would have sat fantastically in the set but wasn't played.
Oh well here is looking forward to the live dvd recorded recently in Brazil and more shows maybe.
Who cares if it was a reunion or not it was a magical evening.
Thank you.